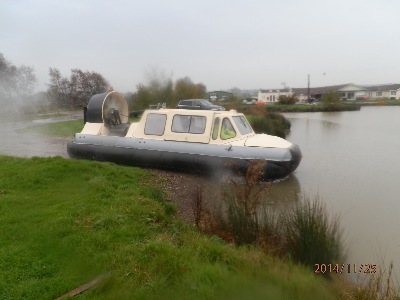 The Vortex 7+ is a twin engined craft with all engineering power plants placed at the rear of the craft. The 2 rows of seating can easily be removed for carrying a wide range of cargo; More than enough room for 2 stretchers and attendants.

Whilst the design weight is 700kg we know from previous experience of our other craft that this is a 'safe' under estimation / calculation. Final payload is dependant on craft specification and what extras are added to the craft, pilot with 600kg of payload should be considered as the minimum.

The pilot (driver) sits well up front and high and is in an ideal position to see the beach, rock, ramp etc for easy slow speed manoeuvrability, this position also allows for good control of the craft when at speed. The use of 2 engines, lift and thrust, means that the craft can manoeuvre much more easily at slow speed than an integrated craft and provided better wave handling when at sea.

These engines have been selected for their reliability and longevity, basic maintenance of these power units is simple and requires minimum technical competency. The whole design concept of the craft is to keep it simple and reliable. The fans are set up to run as slow as possible and with quality engine silencing the intention is to get the noise levels as low as possible we expect to be well inside the current 85dba @ 25m currently recommended for vehicles like these.

The segment skirt with high pressure loop skirt at front and rear is the best design solution for a craft of this size, giving excellent ride quality as well as durability and stability; the replaceable fingers ensure that down time is kept to a minimum. Hard structure clearance will be around 300mm; this can be increased if service demands dictate. The inflatable side bodies with their separate sealed buoyancy chambers ensure that not only is the craft buoyant, but there is a flexible outer structure when hitting / knocking against hard objects. Should the craft be left on water and the air chambers go flat for some reason, the 0.5cum of buoyancy foam (around the engine / fan areas) ensure that the craft is safe.

By using inflatable side bodies it ensure that towing the craft is easy and will fit a standard shipping container, the 2.25m towing width is well within the limits of a standard car and would not require a multi-purpose vehicle (4*4 etc).
Whilst the final internal design layout is not fixed, it is possible to add 2 extra seats either side and slightly further back to the pilot should the customer require. We can offer a wide range of extras from navigational aides to communications systems, however most customers prefer to fit their own so that the equipments matches units that are already in service, in this case we can provide suitable electrical and physical connections.

Depending on final engine choice air conditioning can also be offered.

Detailed Specification

Hull construction ·

Full composite construction, most areas are made up of a 3 layer system, 450grm CSM, 265grm Diolen (hybrid woven cloth) 300grm CSM. Polyester resin is used making repairs in the field easy. Addition layers of Kevlar (255grm) are sandwiched to provide additional support in high stress areas, ie engine mounting points and load mount fixings · Foam cores also increase panel stiffness in non stress areas. ·
Underneath, the floor has an additional layer of 12mm end grain balsa wood (as used in power boat construction) this produces a very hard wearing, puncture resistant floor surface · 8 off HDPE (high density polyethylene) landing pads are bolted to the floor; these are sacrificial items and are easily replaced at major service intervals. These landing pads enable the craft to operate on strong abrasion surfaces such as airport runways. · Unlike many other hovercraft, any part of our craft can be walked on, even the rear duct.

Engine and Transmission ·

The thrust power unit is an 80hp Toyota engine. This K1 series engine 1000cc, 3 cylinder unit is supplied to our specification by Toyota engine developments. This includes an ECU system programmed to match our fan installation. · The lift power unit is an 45hp Toyota engine (de-rated K1 series engine 1000cc, 3 cylinder unit) ·
The engines are rubber mounted on a welded steel engine cradle · The fans are produced by Hascon in Italy, we are their UK distributors for their products. · The power transmission coupling system is provided by Centa Transmissions of Germany · The HTD drive reduction system is designed by Vortex Services and produced by Megadyne of Italy ·
The fan frames are fabricated from mild steel, heat treated welded tube, not stainless steel. As a company we have found that a welded stainless frame does not stand up to the loads that the frame is subjected to over a long period of use; age hardened stress cracks are formed in welded steel structures. · The fan frames are plated and powder coated for long life. · The fan guards are also plated and powder coated. ·

Controls and Instrumentation ·

The main controls are focused around the steering wheel. · The engine throttle levers are mounted to the left of the steering wheel. · Hovercraft trim control is provided by 2 sealed push buttons on the middle of the steering wheel. · All instrumentation and other controls are grouped around the driving position.